Nythamar de Oliveira, Marek Hrubec, Emil Sobottka (eds.), From Social to Cyber Justice: Critical Views on Justice, Law and Ethics. Porto Alegre: PUCRS and Prague: Filosofia, 2018.
The book launch will take place:
— in the Conference Hall in the Institute of Philosophy of the Czech Academy of Sciences, Prague, on June 19, 2018 at 3 pm;
— at the PUCRS University in Porto Alegre, Brasil, on Thursday 28, 2018.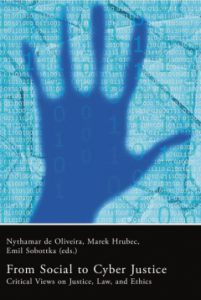 The book contains critical analyses of injustice in connection to law and ethics, and develops normative alternatives linked to justice. It covers the relevant issues from social justice to cyber justice. The chapters address issues and concepts which guideline on social innovations, transformations inherent in democratizing processes, global conflicts and other interactions, including the ultimate danger of escalation to war conflicts, be they conventional wars or new cyberwars.