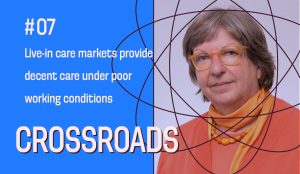 In the latest episode of the podcast Crossroads we invite professor Brigitte Aulenbacher. She is a Professor of Sociological Theory and Social Analysis, the Head of the Department of the Theory of Society and Social Analyses at the Johannes Kepler University of Linz in Austria and a co-editor of Global Dialogue – the Magazine of the International Sociological Association. In addition, she is the vice-president of the International Karl Polanyi Society.
Her fields of research include social inequalities and justice, and theoretical and empirical work on labour, care, marketization and science. She is a distinguished scholar and author of many academic publications whose work has made important contributions bridging theories of contemporary capitalism, Critical Theory and feminist theory. In 2019 she received the Kurt-Rothschild-Award for her work on Karl Polanyi.
The podcast the Na rozcestí / Crossroads is created through a collaboration between Alarm and the research programme Global Conflicts and Local Interactions, which is funded by the AV21 Strategy of the Czech Academy of Sciences. The series invites social scientists, whose research addresses important topics and issues of our globalizing world. This episode is moderated by Zuzana Uhde, a social researcher who works at the Institute of Sociology of the Czech Academy of Sciences.