18 December 2022, 7 pm
Prostor 39
Řehořova 33/39, Prague 3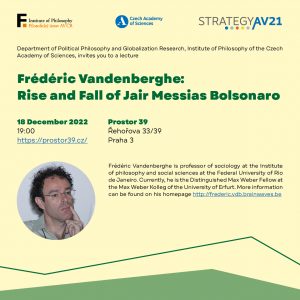 Department of Political Philosophy and Globalization Research, Institute of Philosophy of the Czech Academy of Sciences, invites you to a lecture of Frédéric Vandenberghe Rise and Fall of Jair Messias Bolsonaro. Frédéric Vandenberghe is professor of sociology at the Institute of philosophy and social sciences at the Federal University of Rio de Janeiro. Currently, he is the Distinguished Max Weber Fellow at the Max Weber Kolleg of the University of Erfurt.