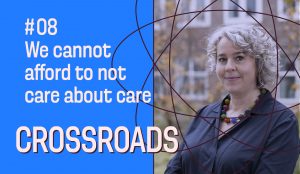 In the latest episode of the podcast Crossroads we invite dr Kristine Krause. Dr Krause is an anthropologist working at the intersections of political and medical anthropology, interested in subjectivities and health, citizenship and care. At the University of Amsterdam she is a member of the Health, Care and the Body Programme and the Long-term Care and Dementia Research Group. Together with Jeannette Pols she runs the Anthropology of Care Network.
In her current, ERC founded research ReloCare, she looks at care outsourcing within Europe, where geographic discrepancies in cost, access and salaries are played out. She analyses care as a social-material practice involving many different actors, driven by flows of people, and capital, but where family, state, and market remain influential.
The podcast the Na rozcestí / Crossroads is created through a collaboration between Alarm and the research programme Global Conflicts and Local Interactions, which is funded by the AV21 Strategy of the Czech Academy of Sciences. The series invites social scientists, whose research addresses important topics and issues of our globalizing world. This episode is moderated by Petra Ezzedine, a social anthropologist who works at the Faculty of Humanities of the Charles University in Prague.