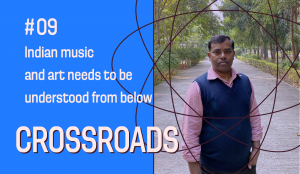 Why can we find hardly any members of the lowest castes neither in Indian music academies nor in the juries of singing talent shows? Why do Dalit musicians write lyrics not only about their caste heroes but even about the Indian Constitution? How do traditional and modern musical styles come together in the struggle against historical injustices? And how do the privileged higher castes respond to all this? In the new episode of the Crossroads podcast series, Indian political scientist Chandraiah Gopani discusses why the caste system remains an important element of Indian society and how inequalities manifest themselves in music.
Chandraiah Gopani studied political science at the University of Hyderabad. He is now an Associate Professor at the Govind Ballabh Pant Social Science Institute in Prayagraj (formerly Allahabad), India. His main research interests are in critical theory, caste and Dalit studies, and Dalit-Bahujan cultural and intellectual traditions. He is currently writing a book on the invisible and most marginalized Dalit castes.
The podcast the Na rozcestí / Crossroads is created through a collaboration between Alarm and the research programme Global Conflicts and Local Interactions, which is funded by the AV21 Strategy of the Czech Academy of Sciences. The series invites social scientists, whose research addresses important topics and issues of our globalizing world. This episode is moderated by Jiří Krejčík, who is a political scientist at the Institute of Philosophy of the Czech Academy of Sciences in Prague.