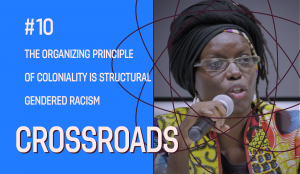 In the latest episode of the podcast series Crossroads, we invited Sylvia Tamale who is a Professor of Law at Makerere University, where she was the first female Dean of the School of Law. She founded and served as a coordinator of the Gender, Law & Sexuality Research Project at the School of Law.
Tamale is a leading African feminist lawyer, scholar, and feminist activist. She has won several awards for her academic work and for defending the human rights of marginalized groups. She is a co-editor of the journal Feminist Africa. She has been a visiting professor at academic institutions around the world; in 2021 she was awarded an Honorary Doctorate of Law by the University of Pretoria, South Africa. Her latest book Decolonization and Afro-Feminism was awarded the 2022 book prize from the Feminist Theory and Gender Section of the International Sociological Association.
The podcast is moderated by Zuzana Uhde, a social scientist at the Institute of Sociology of the Czech Academy of Sciences. The podcast Crossroads is created through a collaboration between Alarm and the research programme Global Conflicts and Local Interactions, which is funded by the AV21 Strategy of the Czech Academy of Sciences. The series invites social scientists, whose research addresses important topics and issues of our globalizing world.