8 November 2022, 2 pm
Kampus Hybernská, building A, 3rd floor
Hybernská 4, Prague 1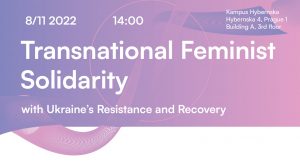 How do Ukrainian feminists think about the afermath of the war? What are the immediate war-related and long-term gendered insecurities they prioritize? What international responses are crucial for Ukraine's gender-responsive recovery in and outside of the country? The event will bring together speakers from Ukraine and the Czech Republic to discuss the gendered aspects of the post-war recovery of Ukraine as well as the impacts of the Russian invasion on refugees and the receiving countries.
Register here.